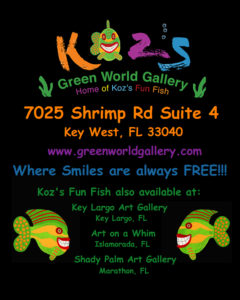 Koz's Green World Gallery
7025 Shrimp Rd.
Key West, FL 33040
Also available at:
Shady Palm Art Gallery in Marathon
Islamorada's Art on a Whim
Key Largo Art Gallery
Inspired by the Jamaican sun and sea, Koz arrived to the traditional artistic community through some rather unconventional means…ensuring it will be hard to find a style that successfully blends light-hearted humor with vivid tropical colors much like that of international artist Koz. Purveyors of fine museum quality originals will appreciate how the pieces here will likely serve as excellent investment vehicles! If "through a painting we can see the whole world," the world that Koz presents is optimistic, fun and beautiful. Just check out the catalog to see what we mean!