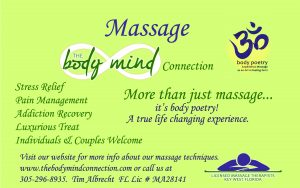 Massage Body Mind Connection
1010 Kennedy Dr.
Key West, FL  33040
305-296-8935
More than just massage, The Body Mind Connection in Key West is an integrative approach to healing.  We use music, therapeutic massage and guided imagery – weaving a rich tapestry for your personal transformation.
For more than a decade, our work has focused on those in crisis as well as those seeking to enrich their lives.