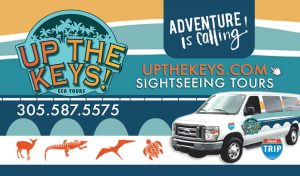 Up The Keys
Enjoy a sightseeing tour of the Florida Keys
What you'll see along the way:
National Key Deer Refuge
7-Mile Bridge
Bahia Honda State Park
Bat Tower
…and more!
Lunch, Snacks, Water & Sodas, Entry Fees INCLUDED!
What you'll see & do:
Enjoy a day of sightseeing along the Overseas Highway.
Explore the natural splendor and historical man-made wonders of the Florida Keys. Revel in the magnitude of the original Seven Mile bridge as we traverse the modern 7-mile replacement. Once the longest bridge in the world and the 8th Wonder of the World, the original is listed on the National Register of Historic Places.
Experience the National Key Deer Wildlife Refuge, where you might get lucky and see an alligator, a turtle, or an elusive bird species in their natural habitat at the Blue Hole. As we explore the refuge, we keep a vigilant lookout for the endangered Key Deer, miniature deer that live only on Big Pine Key.
Stop by the Bat Tower, and get up close to this historic structure designed to house bats on Sugarloaf Key. Built for mosquito control in 1929, It's the only one in the world that is still standing.
Enjoy an included lunch at a waterfront restaurant where we enjoy fresh fish sandwiches, shrimp baskets, or juicy burgers.
Travel in a comfortable 15-passenger van, stop on a few of the best islands in the Keys, and explore The Dolphin Research Center, The Turtle Hospital, OR Florida Keys Aquarium Encounters and learn about the amazing partnerships of humans and marine life.
Or Visit the Bat Tower, Blue Hole, No Name Pub, and the Endangered Key Deer on our 4-hour Twilight Tour. Travel along the Overseas Highway and see the Key Deer at sunset, enjoy a drink or two along the way at tour stops, and order some appetizers or a fresh fish dinner at a locals' favorite restaurant up the Keys.